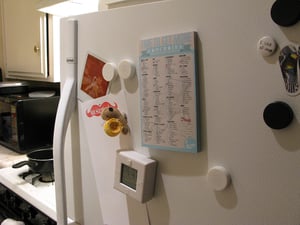 $

8.00
It's time...
to get more groceries! Don't you hate it when you get back from grocery shopping and you realize that not only did you forget the toilet paper, but you bought three cans of corn that you already have?!
With this beautifully designed shopping list you hopefully won't have that problem anymore!
Each pad comes with 50 shopping list sheets. And you can store your pad right on your fridge because each pad comes with a super strong magnet on the back!
other details:
-additional lines for unlisted items you may need
-and a reminder to help keep you on budget!